Whiffy but crucial work at Mac Point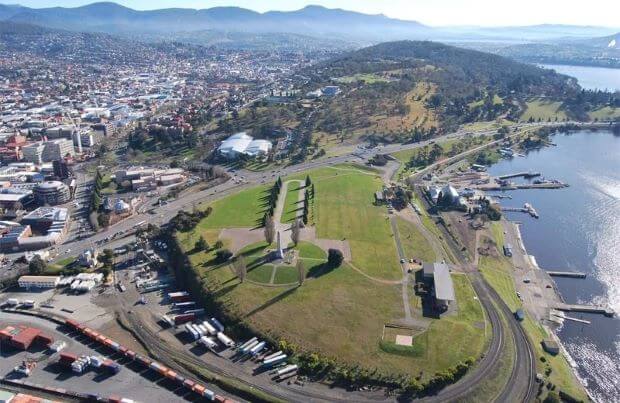 Mary Massina
Cleaning up the site means unpleasant smells in coming weeks, but it's all for a good cause.

HOBART has a rich history of maritime and industrial endeavours, with much of this activity occurring at the gateway to our city at Macquarie Point.

Since the site's colonial and industrial establishment in the 1850s, Mac Point has been home to army drill halls, and abattoir, a general waste dump and then gas works before finally housing Hobart's rail yards.

What happened to those buildings when they were no longer needed? Well, simply knocked over and buried under dirt and concrete with no consideration for any environment impacts later down the track.

Fast forwards to 2021, and while we have now completed much of the work to clean up the mistakes of our past, remediating 80 per cent of the site (including removing the equivalent of 10 Olympic swimming pools of dirt), another major component of Mac Point's physical remediation work is about to begin.




Hobart's historic gas works sits in the southwestern corner of the site and work will soon begin to pave the way for the beginning of our amazing precinct The District.

Once complete, this future space will include 2.7 hectares of prime real estate and public open space on the city's waterfront, a short walk from our CBD.

The District will unlock a place where Tasmanians and visitors alike would be proud to spend time with family and friends, and a place for many to go to work every day.

But first we must clear the way, and that means getting down the dirty, cleaning up the environmental messes of the past. Sitting underneath part of the site is the former gasworks, where gas was produced from burning coal. The by-product of that is coal tar, which we know if buried just below the bitumen surface. Not only is this pollutant a risk for any future development, but it's also bad for the environment.

Our investigations will look at eliminating the risk that coal tar poses to both future development on the site, but also ensuring it has no negative impact on the environment.
We have learned from our previous remediation that when we start digging into this contaminated soil it can release some unpleasant smells.


We're busily preparing for this, so from August 9, accessing the Edible Precinct on the corner or Davey and Evans streets will be a little different, with entry to the precinct further down Evans St. It's important to know this inconvenience is only temporary and we expect to have the first works completed by early September.


We're working closely with our neighbours to ensure the impact during the works is minimal. Rest assured though, this will be worthwhile.


We know if we want to develop a site that we can all be proud of, we need to do it right. Because we know fixing the environmental errors of our past isn't as easy as just paving over them.
Mary Massina is the chief executive of Macquarie Point Development Corporation.
WE HAVE LEARNED FROM OUR PREVIOUS REMEDIATION THAT WHEN WE START DIGGING INTO THIS CONTAMINATED SOIL IT CAN RELEASE SOME UNPLEASANT SMELLS
Share to Facebook